A MEMORIAL GARDEN
  A Living Tribute To  Your Lost  One

Memorial garden

"Death leaves a heartache no one can heal, love leaves a memory no one can steal."

~From a headstone in Ireland


A memorial garden lives on. Live plants, by their nature, can provide soothing comfort to you during your bereavement, while providing many years of pleasant improvement to your landscape.

Pick a quiet corner or spot in which to construct your special garden. You will need to select a focal point for the project. Good choices would be a memorial bench, fountain, sundial, large special rose bush or small accent tree.
Some really beautiful small specimen trees are: flowering dogwood (pink or white), Japanese maple or Japanese flowering cherry.

If you wish to just plant one solitary memorial tree, visit this page for some project ideas and interesting tree-planting options: PLANT A MEMORIAL TREE.
You might even consider installing a small pond in your garden as well. Home improvement centers sell pond liner kits complete with instructions. If you include a small fountain or waterfall, the sound of running water can be very soothing. Solar pumps are available which allows you to place the pond away from the house.
Pick up a book or two on ponds before taking on a project like this, it's pretty ambitious. But if you are fairly handy with home/garden projects, a pond can provide a fascinating and rewarding new hobby for you.
Another idea for a focal point would be a statue or concrete figurine. One favorite for a memorial garden is a cast concrete angel or cherub. To find your special statue, look in the yellow pages for "concrete products" or "statuary". Home improvement centers also sell them.

Once you have the focal point or "centerpiece" of your memorial garden, plan for some small shrubs and flower beds. Select plants you know your lost one loved, such as roses, lilacs or jasmine. Use evergreen azaleas or rhododendrons to provide backdrop and round out the display.

For the flowerbeds, consider "bleeding heart", "forget-me-nots", tulip bulbs, violets or violas, daffodils, lilies of the valley or even sunflowers. You also might consider planting a wildflower plot or an elegant butterfly garden to honor your lost loved one. (See more on butterfly gardens below).



For a walkway, you might lay down mulch, bagged stones or gravel, or even construct a plank walkway out of pressure-treated wood. Personalized stepping stones can also add just the right touch (offered below).

Part of the therapy of this project is the planning and creation of it. Immerse yourself in this worthy new project! Your memorial might not end up on the cover of Home & Garden magazine, but it's yours!
Your loved one would be honored by your tribute to him or her. And you will end up with a special place for quiet reflection or prayer... a lovely spot to remember your lost angel.

Memorial garden accents you may want to consider; we offer some items below:
Wind chimes, windspinners
Garden benches
Engraved memorial rocks
Birdhouse or birdbath
Bird feeder, hummingbird feeder
Fountains
Hammocks
Sundials
Centerpieces & Focal Points


OOPS!

One of our regular visitors was nice enough to let us know that most of the links on this page DO NOT WORK!

On further investigation, we found out that our supplier had gone out of business without telling us! Just so you know, it is very difficult to keep track of all the product links on a website, and we surely welcome any visitor input that lets us know when a link does not work. Taking that extra minute to let us know is very much appreciated.

Rest assured that we are working diligently on replacing most of these items with another supplier. Kindly bookmark the page and visit us in a week or two; we should have new products in place by then. Thanks so much for your patience and understanding.


Sunny Hours Sundial
For centuries sundials have been used to mark the passage of time while reminding us of the rhythms of our universe.  This attractive sundial provides elegant style to any outdoor living space and is a great way to personalize your memorial garden.

Made from 100% cast aluminum in America. 9" x 9", can be mounted on a post or pedestal.


---
Smart Solar Birdbath Fountain
The Smart Solar Birdbath is whimsical, charming, and sturdy. Place the fountain in direct sunlight and the underwater solar panel powers a low voltage pump. Water is recirculated and aerated through two fountain heads.

Made of lightweight and maintenance-free resin with a weathered stone finish, the fountain birdbath measures 21" L x 21" W x 29" H
---
Cotton Rope Hammock
Hammocks were first used in the tropics. Because of their breathable comfort, their popularity spread from the tropics, to sailors, to soldiers, and finally to the tranquil back yard oasis that we all want and need. Create a soothing sanctuary, perfect for relaxing in your memorial garden.

Hammock measures 52W x 76L inches; 11 ft overall length. Sold with or without the stand, very reasonably priced.


---
Water Bell Fountain
The swirling motion of floating bells provides this fountain's peaceful chiming sounds. Create an oasis in your garden - the soothing murmur of the water combines with the gentle ringing of the bells to create a tranquil mood.

Perfect centerpiece for a calming memorial garden. Fountain measures 16"Diameter x 6.5" High


---
Little Giant Calabria Fountain Kit
What better to create a soothing atmosphere than a bubbling fountain? This quality water fountain would make a great focal point for a memorial garden to your lost loved one.

Fountain Dimensions:  25" L x 17" W x 28" D


---
Little Giant Copper Kettle Fountain Kit
Add a charming and elegant accent to your garden space with the Little Giant Copper Kettle Fountain Kit. Features an embossed sunburst design and plenty of room for any water loving flora, like water lillies.


---
Bamboo Slide Fountain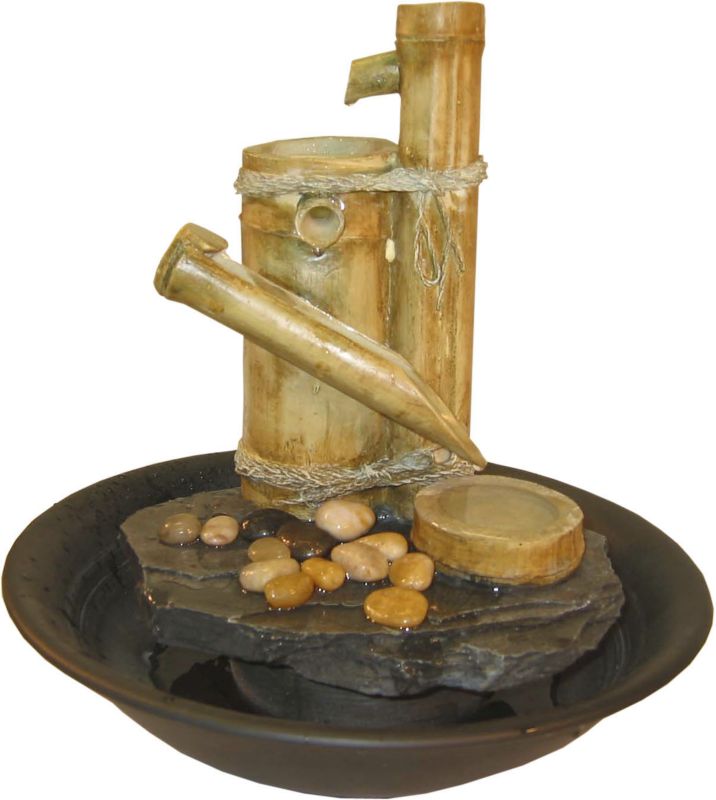 This skillfully hand-crafted table top Bamboo Slide Fountain creates a striking focal point wherever it is placed. The fountain's gently flowing waters provide a calming effect as they soothe nerves and restore body, mind and spirit. 

Stones are included as shown, measures 14" L x 14" W x 14" H. Although technically a "table top" fountain, could be placed on a stand, post or rustic table in a protected area of your memorial garden.


---
Stone Bench- I thought of you with love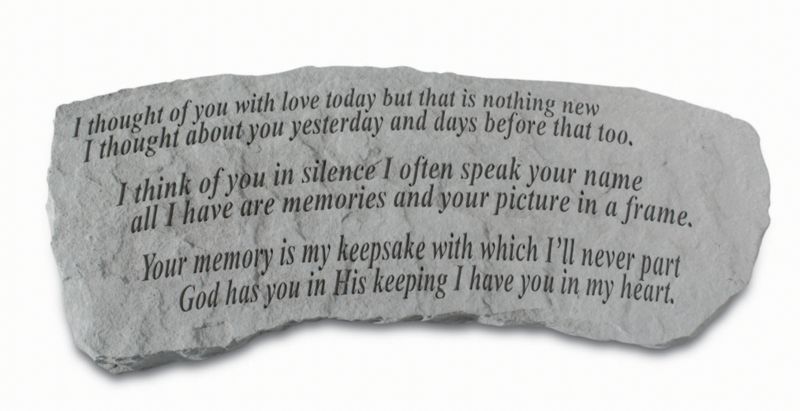 Relaxation is the key to maintaining balance and harmony within your life. Place a beautiful stone bench in your memorial garden so you can sit and enjoy the loving oasis you have created.

Included are the top, two legs, assembly adhesive and instructions, measures 29" x 12" x 14.5". Weatherproof & guaranteed to last a lifetime.

 

Memorial Garden Accents

Mandarin Bird Feeder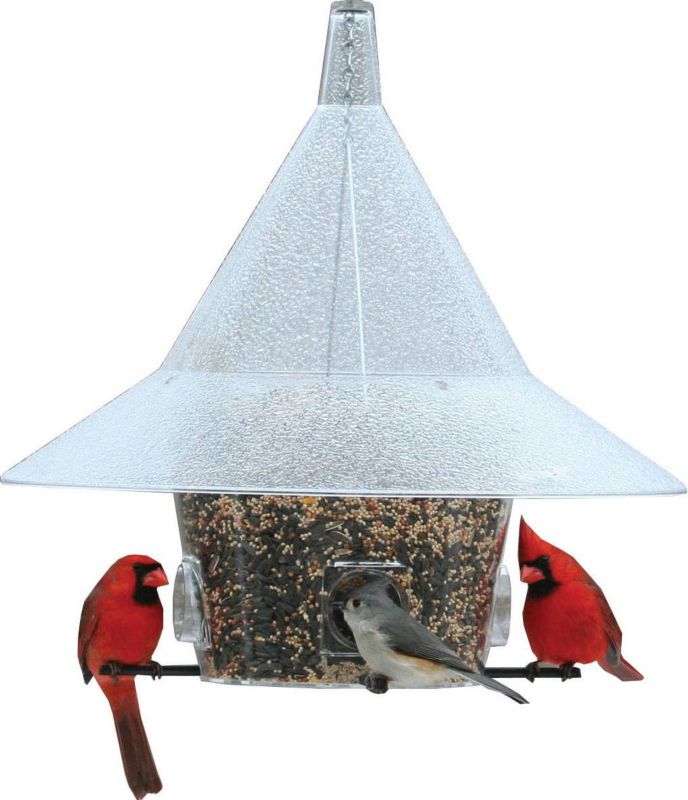 A great accessory for your garden, this Arundale Mandarin Bird Feeder is sure to attract a variety of birds. Wish to feed wild birds and engage yourself in delightful bird watching?

Innovative squirrel-proof wild bird feeder design. Attracts songbirds such as chickadees, finches, cardinals, tufted titmice and downy woodpeckers.


---
Stepping Stone- I thought of you with love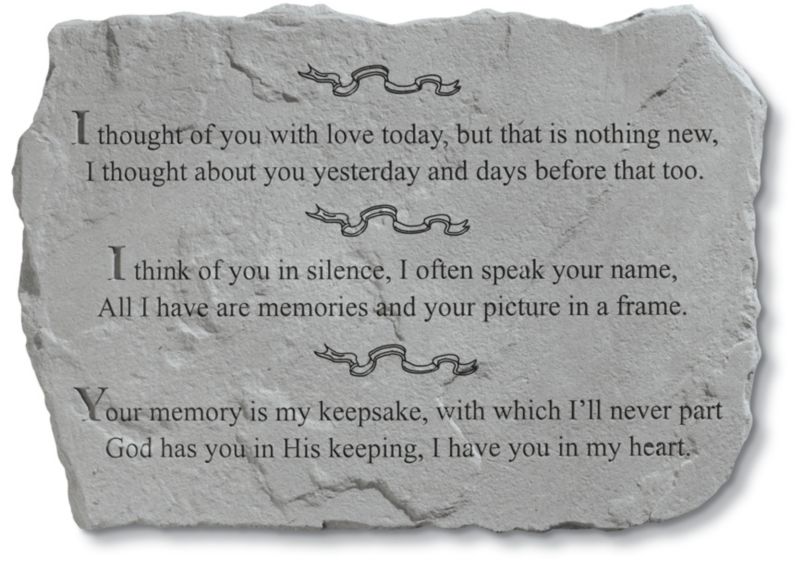 This stepping stone adds character and beauty to your garden, walkway or entry area. Each stone is handcrafted from concrete composite, making it durable and long lasting. .Dimensions: 18"L x 13"H


---
Stepping Stone- Loved with love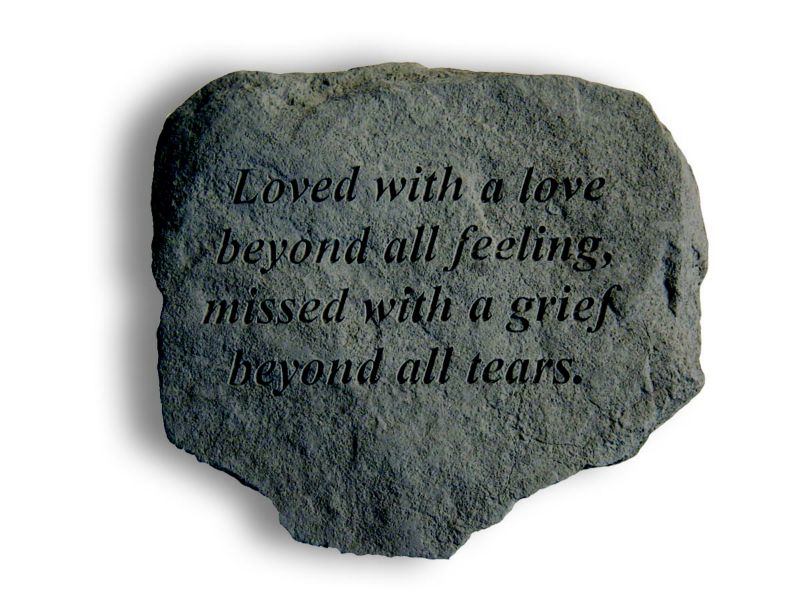 This great accent stone is handcrafted and made of a concrete composite, durable and long lasting. Reads: "Loved with a love beyond all feeling, missed with a grief beyond all tears." Dimensions: 11"L x 10"H


---
Dragonfly Unique Outdoor Art
Add the elegance and prestige of fine art to any outdoor setting with Michael Healy Unique Outdoor Art. Catch a glimpse of this handcrafted bronze Dragonfly as you rest in your special garden. Measures 5.75 x 4.25".

Traditionally, the dragonfly is the symbol of transformation and renewal in life.


---
Contemporary HangingBell Clusters
This Contemporary Hanging Bell Cluster is an unusual and attractive accent for any garden. They add rustic appeal and create pleasing sounds; inspired by Japanese temple prayer bells.

Brass cluster is: 17"H x 8"W x 2"D



Butterfly Memorial Garden

Another very special memorial garden, usually most appropriate for a woman or little girl, is a butterfly garden. This involves plantings of special flowers and shrubs that are known to attract butterflies.

One especially attractive to butterflies is the Butterfly Bush.


Butterfly Bush Seeds
Butterfly Bush, Butterfly Hybrid Mix
A hardy butterfly bush that blooms the first year from seed.

The seeds in this hybrid mix will produce hardy butterfly bushes that bloom purple, white, lavender or pink. Also called "summer lilacs", these butterfly bushes have a long blooming season, need little care and butterflies as well as hummingbirds love them!


All About Butterflies
We found a great website that tells you exactly how to plan and plant a gorgeous butterfly garden. Get started today with this great resource: Glorious Butterfly.


---

Return From Memorial Garden to Landscape Memorials
RETURN TO HOME PAGE