BABY MEMORIAL GIFTS

Baby memorial gifts
There is perhaps nothing more heartbreaking than the death of an infant or child. Although the loss of any loved one is grievous and sad, losing a child can be particularly devastating to a family.

It violates the natural order of things, the natural progression of the generations. It just seems so unfair and hard to justify!

Added to this is a stigma that society places on bereaved parents. If an infant is lost to miscarriage, stillbirth or other perinatal causes, outsiders seem to discount the significance of the loss. Now you and I know how unreasonable this is, but it happens all too often. I guess the thinking is that if you didn't know the child for very long, then the grief should not be as great. Parents are urged to get over the loss as soon as possible, and "get on with their lives". After all, you can have more children...

And if an older child dies, friends and acquaintances are only too aware of how great your loss really is. In fact, they often try to minimize it because it hits home so hard... it could have happened to them! So once again, you find outsiders wanting to get past the tragedy as soon as possible, and urging the parents to do so, too.

Don't be guilty of failing to properly acknowledge the enormity of the loss when your friend loses a child, for whatever reason. Be there for them, and understand that they need a full and lengthy bereavement in order to heal from their personal tragedy.

No, a sympathy gift is not necessary. The gifts we suggest below are certainly not mandatory, and we don't want to "guilt trip" you into thinking they are. What the bereaved parents need most right now is the contact and warmth of friends and family. Show them that you care and support them, no matter how uncomfortable and overwhelming the situation. A gift is not necessary. Your presence is.

That being said, we present below a few sympathy items that would be appropriate for bereaved parents, if you feel it might help:

Baby Memorial Sympathy Baskets
Hope for a Hurting Heart
Hope Basket includes:
Book: Hope for A Healing Heart By Cheryl Karpen. This is the story of a hurting heart, the hope learned and the hope shared. Take this story and its wisdom into your life and rediscover the




vivacious, spirited human only you can be. [References to God and faith].

Kimono Rose By Thymes; Body Lotion & Bath Salts; Pink Powder Shower Flower Sponge

Hugs and Love Mug. "Hugs and love ... for you have a special place in my heart." Tag reads "You are a special gift from God.  This cup comes with hugs and love from me to you."

To Keep In Your Pocket.  Cast in pewter, this set of five




beautiful pocket charms: A Heart, to remind you that you are




loved, A Peace Sign, for hope, An Acorn, for your continued




strength, An Angel, to watch over you, The World, because you make it a better place.



---
To Let You Know I Care Basket
Care basket includes:

To Let You Know I Care Book.  This is a meaningful way to encourage and uplift someone who's struggling in life. These small doses of compassion and hope are graced with charming hand illustrations.

To Keep In Your Pocket.  Cast in pewter, this set of five beautiful pocket charms comes with words of encouragement for when you need them most: A Heart, to remind you that you are loved, A Peace Sign, for hope, An Acorn, for your continued strength, An Angel, to watch over you, The World, because you make it a better place.

Thymes Kimono Rose Bath Wash and Hand Cream; Loved Lip Balm

Love Mug. A simple mug that says ..YOU ARE LOVED!!!!




---
Miscarriage: Healing & Hope Basket
Miscarriage gift basket includes:
Book: About What Was Lost.  20 Writers on Miscarriage, Healing, And Hope. Honest, eloquent, and deeply moving narrative to provide much-needed solace and support on the subject of pregnancy loss.

The Healing Hearts Comfort Kit includes:  Healing Heart Mist.




Seeds of Hope pack, Light of My Heart Aromatherapy Candle.




Baby Memorial Sympathy Books & Gifts

Sweet Child Memorial Frame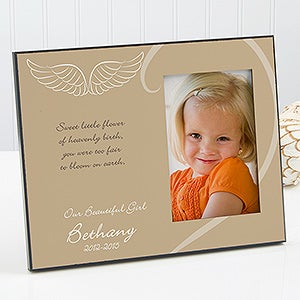 Words cannot describe the heartache we experience from the loss of a child, but our Moment in Life Personalized Memorial Frame shows us their spirit lives on for eternity.

Personalize this heartfelt gift with your choice of 3 delicate colors, child's name, 2 lines of sentiment and 5 spiritual verses, or choose to write your own.
---
Sweet Angel Picture Frame
The solid wood 8" X 8" frame is beautifully painted and has the words "Sweet Angel"  under the picture window.

Insert a special 3.5 x 3.5 inch photograph that the recipient may not have to make this gift even more special...


---
I Am Always With You Token
"As you hold me close in memory, even though we are apart, my spirit will live on, there within your heart...I am with you always. When you lean on trusted friends and their caring hugs enfold you, within their loving arms I'll be there to hold you...I am with you always. And beyond the far horizon when we'll finally be together, where love will be eternal and life will last forever...I am with you always".

May this keepsake token remind you of your loved one, who is with you in spirit...always.

Token is brass with shiny non-tarnish silver plating and comes gift boxed with a card.


---
Forever Silver Bracelet

Forever Beaded Bracelet- Sterling Silver

We love this simple design....four long sterling silver links with crystal bead highlights that catch the light. The simple sterling silver word charm lies flat and smoothly on your wrist connecting you 'Forever'....

We are happy to put any quote that you would like to go with this beautiful bracelet.

The standard quote of comfort we put with this bracelet is: "A part of you grew in me. And so you see, we will always be together forever and never apart, maybe in distance, but never in heart."


---
Baby Heaven Memorial Ornament Boxed w/Poem

"Little I knew that morning, God was going to call your name. In life we loved you dearly, in death we do the same. It broke our hearts to lose you, you did not go alone, for part of me went with you, the day God called you home. You left us beautiful memories, your love is still our guide, and though we cannot see you, you are always by our side".


---
On Angel's Wings Book & CD
On Angel's Wings Book & Companion CD

"A song can travel to places in the heart where the spoken word alone cannot go." 'Precious Child' was written by Karen Taylor-Good in loving memory of her nephew, Paul Rodgers. Her gift pack contains messages and songs of inspiration and hope.  The book contains a full, 14 song companion CD by this grammy-nominated singer-songwriter/author/speaker.

Karen's music is used by therapists, ministers, and others in the healing arts. Her songs have been recorded by Melissa Manchester and Al Jarreau, among others.


---
Our Children Live On
Heartwarming stories of hope, healing, and comfort for the bereaved.

Our Children Live On is an award-winning collection of powerful, true stories that prove our children are with us forever. Eighty-two heartfelt, moving testimonials from bereaved parents, grandparents, siblings, friends, and caregivers clearly demonstrate that love and life are eternal.



My Forever Child